Sections
Image
Image
Left Column
Text Area
A Winning Combination

The Dual Degree Program in Technology and Management, the first of its kind in Hong Kong, offers high-flying students an inspiring opportunity to gain two internationally-recognized degrees in five years: Bachelor of Engineering (BEng) or Bachelor of Science (BSc), and Bachelor of Business Administration (BBA).
 
Beyond traditional boundaries
Dual Degree students learn how to analyze issues from technological and business viewpoints and solve both quantitative and qualitative problems. Students also develop awareness of different cultures and global perspectives and foster a willingness to serve, gaining much more than two degrees. With double degrees in technology and management, our graduates have a wide variety of career advancement opportunities.
 
Should a CEO be personally technical-savvy?
19% said it was very important

93% felt CEOs should have at least some familiarity
- Participant Survey, 14th Asia Leadership Forum, June 2005
 
Right Column
Image
Image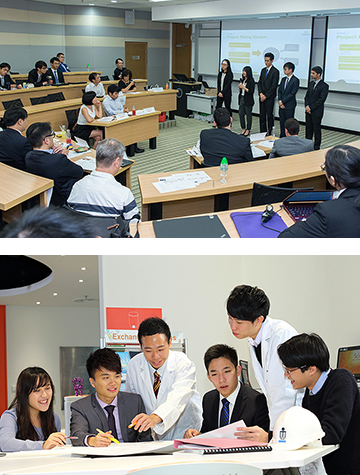 Left Column
Image
Image
Right Column
Image
Image